OLDENBURG (approved RPSI) - black - born: 1999 - 17.1 h. 5 generation pedigree
Gatsby and Offspring Gallery
Baron is truly an exceptional horse and we are so thrilled to have him join our stallion roster for 2003.
He is a black type stakes winner with earnings of over $250,000 and progeny earnings in excess of $1.1 million! His pedigree reads like a who's who of race horses AND sporthorses.
Baron's progeny are very workmanlike in nature and extremely athletic. Not only does Baron produce outstanding race horses, but he produces outstanding jumpers and dressage horses as well. He passes on his superior conformation, movement and ability to his offspring. Baron himself can jump around a 4'9" course at 22 years of age.
When we purchased Baron in the summer of 2002, we were awestruck by his incredible movement and lovely disposition. No one would ever guess this marvelous horses' age of 22.
Baron has a 100% conception rate for 2002. Baron crosses well on all types of mares. He adds height to shorter mares and lightens up large WB's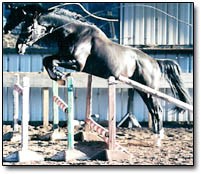 Gatsby is a carbon copy of his great father. Gatsby is showing tremendous ability and form over fences, and possesses 3 exceptional gaits and mind for top level dressage. He has been jumping 4'9" consistently and shows incredible ability and scope for top international showjumping.

Gatsby's first foal crop have exceeded everyone's expectations. They all have great conformations, excellent movement, and awesome temperaments.