BROODMARES
All of our broodmares are handpicked based on conformation, temperament, performance and pedigree. Below is a list of mares in foal for 2003.
****ALL FOALS OF 2003 ARE OFFERED FOR PURCHASE IN UTERO**** Please contact us for further info.
Much Too Close
Fleet Avatar

Queen City Lad

Olden Times (War Relic)

Queen City Miss

Camaguey

Chateuqay (Swaps)

After Supper

Cloche Encounter

Candle Stand

Round Table (Princequillo)

Terentia (Bold Ruler)

Cloche

Klairon

Wind Song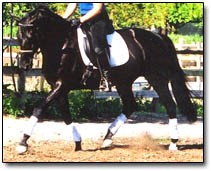 TB (approved CSH, AWR) - black - born: 1991 - 16.1 h.

"Midget" is a TRUE BLACK Canadian TB by the upper level 3-day Stallion Fleet Avatar. Midget is approved Canadian Sporthorse, American Warmblood, American Jockey Club, and Canadian Thoroughbred. She has many wins to her record, including British Columbia Equitation Champion.
Midget is bred to our black Oldenburg stallion "Gatsby" for a 2003 foal.
Sidney
One To Envy

Bold Forbes

Irish Castle (Bold Ruler)

Comely Nell

Blushing Missy

Blushing Groom

Tejas

Centennial Dawn

Proud and Sweet

Proud Clarion

Sugar Test

Sue's Angel

Position

Faithful Sue

TB (approved WESTPHALIAN, RPSI) - Bay - born: 1993 - 16.2 h.
Sidney is a Bay Westphalian and RPSI approved TB mare. She was the CHAMPION MARE at her Westphalian Inspection and Main Mare Book RPSI. She had a beautiful 1999 Gonzo I filly, a flawless 2001 stallion prospect by American Diabolo, and a super 2002 colt by Gatsby. Sidney is a proven show hunter and jumper. Her 2002 colt by Gatsby was awarded Silver Premium at the RPSI inspection.
Sidney will be bred to our black Oldenburg stallion Gatsby for a 2004 foal.
Future Afillyate
For The Future

Furioso II

Furioso

Dame de Ranville

Ironie

Inschallah

Steinane

Xerox Kitten

Copy Chief

Hasty Road

Aunt Jinny

Cozy Cat

Blenheim II

Buzcat
Oldenburg - chestnut - born: 1997 - 16.1 h.

"T2" is a lovely chestnut Oldenburg mare with impeccable conformation, movement, and bloodlines. By For The Future (3/4 brother to olympic medalist Heisman). Started lightly over fences, she is showing good scope and great movement for jumpers and dressage.
T2 is in foal to Gatsby for a 2003 foal. She will be bred back to Montelino.
Genoa
Gonzo I

Gepard

Gotthard

St. Pr. St. Feretria

Dietgart

Diskant

Adlerklette

Simple Truth

Texas Fuel

For the Moment

Puppi Line

Still Adrift

Ship on Fire

Good Shoo


Oldenburg - chestnut - born: 1997 - 16.0 h.

Genoa is big, large framed handsome mare. Very nice movement and lovely jump. Premium foal. Very well bred. Her sire, Gonzo I is also the sire of our stallion, Gatsby. Damsire is Texas Fuel, who consistently produces top level hunters and jumpers. Genoa has been successfully shown in the hunter divisions and has started a career in dressage. This is one of my favorite mares.
Genoa will be bred to Montelino in 2003.
Wing of Sunshine
Big Presentation

In Reality

Intentionally

My Dear Girl

Shelf Talker

Tatan

Melody Mine

Sunshine Room

Racing Room

Restless Wind

Crowding In

Blue Mora

Goshen

Blue Gum
TB - Black - born: 1986 - 16.0 h.

Wings is a lovely black TB mare. She competed Advanced level 3-day and Preliminary level jumpers on the "A" circuit. Lovely mover with a huge jump. Very proven in the show ring.
In foal to Gatsby for a 2003 foal.
Day to Win
Winterset

Gummo

Fleet Nasrullah

Alabama Gal

Winter Solstice

Acroterion

Cool Snooze

Today's Report

Grenfall

Graustark

Primonetta

Snow Lilly

Olympiad King

Winter Snow
TB (approved OLDENBURG, TRAKEHNER) - Bay - born: 1990 - 16.0 h.

Winnie is a lovely bay TB mare. Approved ATA and Oldenburg. Big bodied, lovely mover with tons of suspension. Proven broodmare. Has had several lovely Trakehner foals.
Winnie is in foal to Gatsby for a 2003 foal.