GATSBY Click HERE to see Gatsby's new 2003 babies !!!!
GONZO I

Gepard

Gotthard

St. Pr. St. Feretria

Dietgart

Diskant

Adlerklette

Kalua Song

Seattle Song

Seattle Slew

Incantation

Lei of Stars

Hawaii

Celtic Coin (Nashua)

Stud Fee: $650 LFG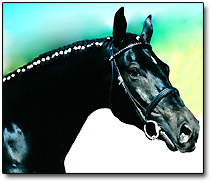 OLDENBURG (approved RPSI) - black - born: 1999 - 17.1 h.
5 generation pedigree
Gatsby and Offspring Gallery
Gatsby is an approved breeding son of the legendary Elite Hanoverian Gonzo I. Imported from Germany, Gonzo was the United State's most popular Hanoverian breeding stallion for several years in a row before his untimely death in late 2000. Gatsby continues his father's great legacy, and shows why Gonzo was such a popular breeding stallion. Many great things have been said and written about Gonzo, all of which are a testament to this stallions greatness.
Gonzo showed very successfully thru 4th Level Dressage, Grand Prix showjumping, and was a great Puissance horse topping the wall at over 7'2" on several occasions. Gonzo also won under a 15 year old young rider as well as Olympic medalist Franke Sloothaak. Gonzo was sired by GEPARD, (sire of Hunter sire ALL THE GOLD, as well as 12 international Grand Prix winners), and out of DIETGART, full sister to Olympic Silver medalist DEISTER. Deister won 4 German and 3 European Championships, the Hamburg Derby, and Aachen CHIO.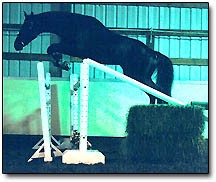 Gatsby is a carbon copy of his great father. Gatsby is showing tremendous ability and form over fences, and possesses 3 excellent gaits for top level dressage. He has been free-jumped to 4'9" and has incredible ability and scope for top international showjumping.

Gatsby's first foal crop have exceeded everyone's expectations. They all have great conformations, excellent movement, and awesome temperaments. Our own Gatsby colt, Granville, was presented to the RPSI and awarded Silver Premium.

2003 Stud fees as follows: $650.
Stud fee includes $250 booking fee and Live Foal Guarantee.
Video available.