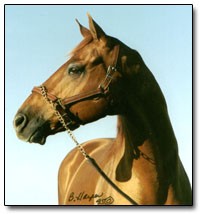 NEWS
January 19th 2003.
We are EXTREMELY excited to let everyone know our new stallion, Montelino, has arrived safely from Germany. He travelled very well and was a complete gentleman to work with. Monte is such a gorgeous guy with a lovely temperament. He's even more gorgeous in person and has such a big kind eye. We will be showing Monte in hand this spring.

Dec 19th 2002.
Fir Cliff Farms sadly announces the passing of our TB stallion, Demí Riffa (photo shown right). He had a massive heart attack in his stall and died instantly. We are really thankful to have been able to spend time with such a wonderful animal. He will be sadly missed.
Sept 21st 2002
This season has been super busy with all of the breeding Gatsby has done. We want to thank everyone who bred to him for a 2003 foal.

Gatsby was presented and APPROVED for breeding in Stud Book 1 of the RPSI registry. We also took Sidney and her colt by Gatsby, Granville (photo shown below). Sidney was approved main mare book and Granville was awarded the Silver Premium foal award. Granville is a stallion prospect and is the only Gatsby foal available at this time.

We want to thank Suzanne Blair-Burtner on the purchase of the super colt, "Normandie," (American Diabolo X Sidney), Michelle on the purchase of "Vegas Showgirl" our paint sporthorse filly, Kelly on the purchase of WB jumper gelding, "Miller Time," Larry Nelson on the purchase of our lovely HUGE Belgian mare, "Charla," Jeremy and his family on the purchase of our A/O hunter FCF Amidala. We really appreciate all of our clients..THANK YOU

In December, we will be importing our newest stallion, "MONTELINO" (MASCARPONE X ANNA-KARENINA). Monte is a gorgeous sabino palomino colt bred by Gwendolyn Gregorio of Gestuet Falkenhorst stables in Germany.