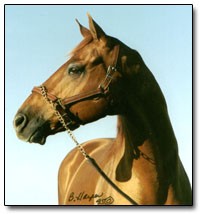 TB - chestnut - born: 1983 - 16.0 h. 5 generation pedigree
Dem' Riffa is the son of the last Triple Crown Winner, AFFIRMED. Only 10 other horses have managed the tremendous feat of winning the Triple Crown in the history of Thoroughbred racing, with Affirmed being the last one back in 1978. Affirmed joins the other great Triple Crown winners such as Seattle Slew (1977), Secretariat (1973), and War Admiral (1937). Affirmed was Horse of the Year at 2 and 3, and on the top 50 Sires List many times. He amassed an amazing $2,393,818 in racing prize money, and was the first horse ever to break the $2 million barrier.
Affirmed's legacy will live on forever in the hearts of sporthorse enthusiasts and breeders everywhere. So much has been written about this courageous stallion who beat all the odds with his incredible will to win and his tremendous heart.
Dem' Riffa's dam, E' Tatiga, won over $91,750 on the racetrack before being retired to breeding. E' Tatiga's sire, Agitate, was a stakes winner with over $312,925 in earnings and her dam a stakes winner of over $30,295. Dem' Riffa's pedigree is full of stakes winners all the way to the 5th generation. In the first two generations alone, 5 out of 6 horses were stakes winners and the 6th was a stakes producer! In the 3rd generation, 7 were race winners and of that 7, 4 were stakes winners. In the 4th generation, of the 16 horses listed, 11 were champion runners and stakes winners and the remaining 5 were stakes producing mares!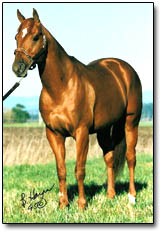 Dem' Riffa's daughter, Dem' Mure (out of TB mare, Rullah D), was Reserve Champion 3yo mare in hand thoroughbred in 2001 and is well on her way to champion 4yo in 2002. She is also top 5 in OHA thoroughbred mares in hand. She demonstrates the trainability, class and beauty that Dem' Riffa stamps his foals with.
Dem' Riffa's stellar pedigree coupled with his conformation, movement and ability cross well with all types of mares. He adds substance and bone to even the smaller thoroughbred mares. He has the heart of his great sire, a heart of champions.
Dem' Riffa has sired working hunters, jumpers and dressage horses consistently with limited breeding in the Northwest. He has the classic hunter look with exceptional temperament, trainability and conformation. His foals are consistently sought after by amateur riders and professionals alike for their willing and quiet temperament.
We are extremely proud to offer this outstanding stallion for your consideration. Dem' Riffa could sire your next champion!